Chip Neville, MFA - Artist/Musician

Chip Neville - Creative Practitioner
If asked what I do, I would say it is really a creative practice. I operate creatively with dual modalities visual and auditory. At various times I may be teaching elementary art, a college class in digital audio and video, or building an exhibition installation of wood, brass, and electronics, in my garage. My background being equal parts of art and music allows me these creative options. I feel I left something out if I say I am just an artist, or just a musician. Simply because so frequently I am engaged creatively as both. Currently I am able to make good use of this broad approach and skillset as a college instructor of digital film and video.
Biography
Chip Neville is a new media artist working both traditional and electronic mediums including but not limited to, music, animation, video, installation, and performance. His work covers a diverse set of topics ranging from humor to politics with an emphasis on local environmental issues.
He has worked for over 30 years as a graphic designer and extensively during that time as an illustrator producing work for the State of Florida and in more than twenty internationally published, award winning children's books.
As an traditional and new media artist he works with local art organizations such as the Salvador Dali Museum, The Tampa Museum of Art, and the Emit Series. He has exhibited work at film festivals and galleries locally and across the country showing experimental video, photography, animation, and video installation combined with performance.
Musically Chip has written and performed music with the Tampa Artist and Writer's Group, Tampa Bay Composer's forum, performed as a guitarist and singer in musical ensembles, and toured with the Florida Orchestra. He has also worked teaching guitar and music lessons privately and through the USF Community Music Division.
While active in the local music and arts community, Chip has most recently been working as a college instructor. He specializes in animation, digital audio, video production, visual theory, and new media. He currently is fulltime faculty for the Art Institute of Tampa, and adjuncts at St. Petersburg College. He also instructed in various capacities on the faculties of the International Academy of Design and Technology (Tampa), University of South Florida, and the University of Tampa.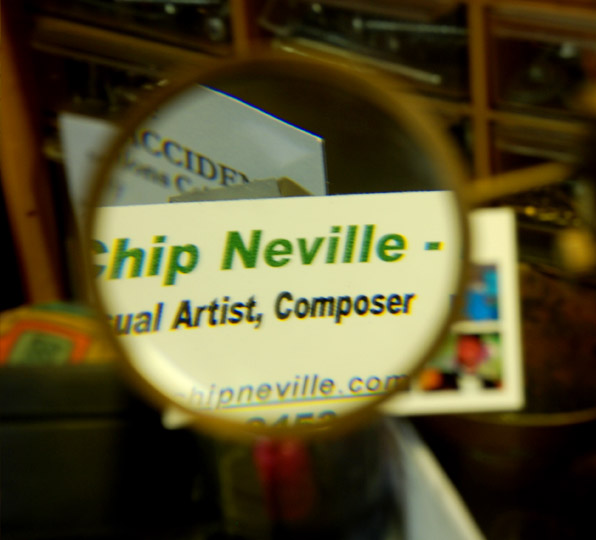 Artist's Statement
   The title bar of my web page says "Artist/Musician." Truly this is the only way to describe my creative practice unless perhaps you were to add "traditional/digital" to artist/musician. That indeed would lay a better foundation for discussing my work. It is not so simple to say I am an animator or a guitarist. Indeed I am very much both. I also have a command of many other techniques and medium that I use regularly, such as percussion and keyboards on the music side and paint, sculpture and photography on the art side. It would be inaccurate unless I described my approach to creativity as richly interdisciplinary.
I truly enjoy engaging in a variety of medium both individual and in concert with each other. I frequently produce visuals for musical events, music for visual imagery and sound and image to be viewed individually. Being comfortable in multiple art and musical disciplines has given me the ability to effectively employ any of a variety of medium from string quartet to sculpture in my creative efforts. Now the specifics of concept can dictate the physical construct. Because my dedication is to a range of creative medium, I have broad insigths into the inter-relatedness of the various medium.
This is essential in today's digital world where text, audio, video, still images, and performance, are all so frequently created, recorded, and disseminated or in some way distributed by computers. In the spirit of my times, digital production skills have become a stalwart of my practice. Not surprisingly while employing something like my dual aural & visual modalities on the computer, I tend to gravitate toward time based medium like digital video and flash animation. This does not usurp my practice of sculpting, creating still images, or writing by hand with a pen.
Certainly this convergence of all things to digital media has been an important part of my creative practice. I still go somewhat kicking and screaming into the ephemera of digital technology, despite my command of it. I find myself still requiring, the richness and tactile sense of the physical mediums. Editing a MIDI sequence on screen is rewarding and immensely useful, but it does not substitute for playing in or listening to a live ensemble of performers. I find many things I do are to achieve a balance, while instructor of digital audio and animation, I still play in a rock cover band, I play classical guitar, draw in my sketchbooks, make hybrid sculpture and have recently so taken to block printing and painting with acrylics. This is also undoubtedly why I so frequently find myself involved with a mix of traditional and digital, aural, and visual medium.